Thank you to the designers, contractors, members, volunteers, attendees, Belmont Woman's Club and the Town of Belmont for helping to make the 2017 Designer Show House a huge success!
"Think of it as a chance to leave the world behind for a few hours and revel in beautiful design."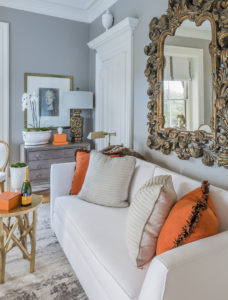 October 7 – November 5, 2017
That's what the Boston Globe has to say about the 2017 Designer Show House and we couldn't agree more! The transformed 1853 William Flagg Homer House in Belmont, MA is open to the public through November 5.  We invite you to visit and see the stunning talents of more than 20 of the Boston area's top designers. From elegant neutrals to whimsical patterns and sumptuous textiles, there is something for everyone!
Please be advised that due to the steep incline of the land, the 2017 JL Boston Designer Show House is not handicap accessible. Visitors must access the home by way of stairs. JL Boston volunteers will be on site to assist anyone in need. Passenger drop off is also available at the front door, at the top of the driveway. For questions or further information, please contact showhouse@jlboston.org or 617.536.9640.
No pets allowed with the exception of service animals.