Consumerism for Good: Shop Amazon Smile to Support the Junior League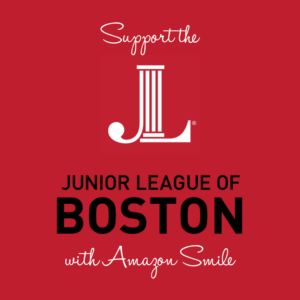 What if there were a way to turn your shopping into donations for the Junior League of Boston? It turns out, if you are an Amazon shopper, there is. Amazon Smile is a program that allows you to support a charity of your choice. As long as you're logged in to your account and access Amazon using the special smile.amazon.com URL, 0.5% of every dollar you pay will be given by Amazon to your selected charity. (more…)
Women 4 Women Donation Items
Donation Items
Feminine h

ygiene

 (brands: Honey Pot, etc.)

 

Pads & tampons
Diapers & wipes

Deodorant

 

Soap/body wash

 

Hair products like shampoo, conditioner, or styling aids (brands:

Shea Moisture, Cantu for Natural Hair, Carol's Daughter, Mielle Organics, Miss Jessie's, Tgin

)

 

B

ody lotion

 

Chapstick

 

Vaseline

 

Toothbrushes
Toothpaste

 

Hand soap & hand sanitizer
Amazon Wishlists
When shopping from an Amazon Wishlist, select Add the items to your cart that you wish to buy. If you chose items from multiple lists, after you click "Proceed to Checkout" there will be an option in the top right-hand corner of the page to "Ship to Multiple Addresses". You can select to ship each item to the requesting recipient (you have to remember which person requested the item).  If you shop from Amazon Smile, you can even contribute a small amount to JL Boston with your purchase!
Women 4 Women Amazon Wishlist
*Please note that you will need to select the address called Women 4 Women at checkout. The purchase will then be shipped directly for distribution.
Jeremiah Program Amazon Wishlist
Do you love what we're doing? Support the Junior League of Boston, here.
Women 4 Women is a network of change agents around Greater Boston supporting women & girls in our community.
The Network
Women 4 Women was founded by the Junior League of Boston to serve the needs of our community partners during COVID-19. This initiative connects our members and the Greater Boston community to fulfill needs for personal care items.
Through a donation drive, with drop-off locations across the Greater Boston community, we are finding ways to give back to community partners without being physically present to volunteer during COVID-19.
How does it work?
Junior League of Boston is calling for personal care item donations to provide hygienic supplies to hundreds of the most vulnerable women & girls in Boston.
From Now through December 10th, 2020 the Junior League of Boston members will be hosting donation bins in their neighborhoods throughout the Greater Boston area. Please bring your donation items as requested by our community partners. To ensure the proper care, safety, and sanitation of donated items, please sign-up to drop-off your items at your convenient neighborhood location.
How can I help
Be a donor
Step 1: Visit the calendar and select Women 4 Women to choose an available day/time to drop of your donation items.
Step 2:  Choose the drop-off location closest to you (Not local? Select Amazon Wishlist Donation on the donor calendar).
Step 3: Enter your name and e-mail to receive a reminder for your drop-off. You drop-off, and we make sure they reach the community partners in need. See what items we need currently and the Amazon Wishlist! Make JL Boston your Amazon Smile charity of choice to see your purchase go further!
Be a bin host
If you're a Junior League of Boston member and interested in hosting a drop-off location, sign-up here.
FAQ
What is the purpose of Women 4 Women?
Boston area residents are reeling from losing loved ones, having local small businesses close their doors permanently, and having every aspect of our communities has been touched by the COVID-19 pandemic. The pandemic has fundamentally shifted how we at the Junior League can serve the parts of our community, making it harder to ensure that necessities are reaching those in the greatest need.
The Junior League of Boston is excited to launch Women 4 Women, a grassroots campaign dedicated to serving our community. This effort will allow women within our league and community to collect much-needed supplies for women and families across the Boston community. Junior League members will have the opportunity to host pick-up locations in their neighborhoods, which will be collected weekly. All items will be donated to the Junior League's community partners, including the Jeremiah Program, the Boys & Girls Club of Charlestown, Boys & Girls Club of Blue Hills and the Boston Renaissance Charter School.
How was the list of donation items developed?
We work closely with our community partners to identify non-perishable items we can safely collect.
Can I donate money?
Yes, you can donate to the Junior League of Boston, which goes directly toward the work we do in our community.
The Junior League of Boston cannot accept monetary donations on behalf of community partners. You can also choose the Junior League of Boston as your charity on AmazonSmile.
I am having trouble finding the drop-off location
If you can't find the drop-off location, reach out to the contact information that was provided in your confirmation email.
How can I become a community partner?
If you're interested in becoming a partner with the Junior League of Boston, please reach out to the VP of Community at community@jlboston.org.
Can I join the Junior League of Boston?
We are an organization of women committed to promoting voluntarism, developing the potential of women and improving communities through the effective action and leadership of trained volunteers. If you're interested in learning more sign up for an info session.