Download LBDI Logo – Right click to download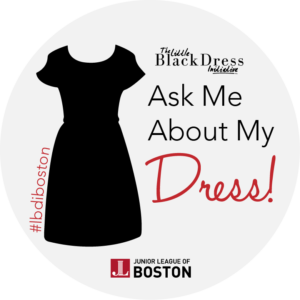 Welcome! Thank you for your interest in being an Advocate in the Junior League of Boston's 2018 Little Black Dress Initiative (LBDI)! Get ready for an electrifying week filled with meaningful conversations and learning about poverty in our community.
The Little Black Dress Initiative (LBDI) is an advocacy campaign that seeks to raise community awareness of the issue of poverty in Boston. During the week of February 26, 2018 through March 2, 2018, LBDI Advocates will wear the same little black dress for five (5) consecutive days to illustrate the effects poverty can have on a woman's access to resources, her confidence and her professional opportunities. The dress is a visual representation of the lack of choice for families living in poverty.
This year, 100% of all funds raised during the LBDI week will go towards the Junior League of Boston Homelessness Prevention Fund via the Women's Lunch Place. This fund will help eight (8) deserving women and their families who have fallen on hard times get back into secure, permanent housing.
Our goal is for each advocate to raise $250 or more, for a total of about $12,500. Did you know that the poverty line for a family of four in Boston is $25,000? To challenge ourselves even further, we have also chosen this amount as our REACH goal!
Questions? Please contact lbdi@jlboston.org