THE JUNIOR LEAGUE OF BOSTON ANNOUNCES THE GRAND OPENING OF NEWLY RENOVATED HEADQUARTERS ON MAY 14, 2105
Shannan Adler – External Communications Manager
JL Boston is honored to host a Welcome Home event for community partners, sponsors and special guests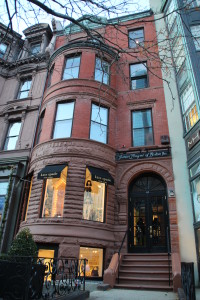 BOSTON, May 14, 2015—The Junior League of Boston will host distinguished members and guests in the newly renovated historic headquarters building at 117 Newbury Street, in the heart of Boston's Back Bay. The result of a multi-year renovation, the League's Headquarters now proudly serves as a state-of-the-art resource for the greater Boston community, who are encouraged to utilize various meeting rooms for events and outreach. The renovation was designed to affirm the long-standing collaboration between the Junior League of Boston and the regional non-profit community.  In addition to nurturing its many existing relationships within the city of Boston, the Junior League of Boston actively seeks additional collaboration opportunities for its members who donate thousands of volunteer hours to the community annually.
The League's Welcome Home event is a unique opportunity for members to mingle with community partners and distinguished guests who each support the deeply held values of community outreach and voluntarism pioneered by the League's founding members over 100 years ago. Today we continue to thrive, with over 900 members in the greater Boston area. Our members commit more than 16,000 volunteer hours annually, directly serving the most disadvantaged among us in critical areas such as education, health and wellness, self-esteem and empowerment. The Grand Opening is an opportunity to re-introduce ourselves to the Boston community as a thriving non-profit women's organization which anchors itself in diversity and inclusion.
The Grand Opening is sponsored by Barefoot Wine and Barefoot Bubbly. The League would like to thank our in-kind sponsors, East Meets West Catering, Peterson Party Rental, Entertainment Specialists, Georgetown Cupcake, and Goodnatured Dog Productions LLC.
The festivities begin at 6:00 p.m. with canapés and libations served. Remarks by our President Audra Dainora, as well as other special guests, will continue throughout the evening. "Our headquarters is not only historically significant but a symbol of the dedicated service of our volunteers to communities in need," said Audra Dainora, President of the Junior League of Boston. "It will give me great pleasure to welcome our supporters to celebrate our accomplishments of the past and share our vision for the future."
About the Junior League of Boston
The Junior League of Boston, Inc. is an all-women's nonprofit organization focused on the wellness for girls: developing tomorrow's healthy confident women leaders. JL Boston is part of The Association of Junior Leagues International Inc. (AJLI), an organization of 292 Junior League chapters in four countries. AJLI is composed of more than 150,000 dedicated and creative women members from varying backgrounds and interests, who share a commitment to voluntarism within their communities. Founded in 1906, the Junior League of Boston originated as a progressive, motivated and dedicated collection of trained female volunteers. Today, its members proudly serve the greater Boston area through direct community service projects. Please go to www.jlboston.com for more information and to learn how you can support JL Boston.