A Tale of 8 Cities – The JL Transfer Experience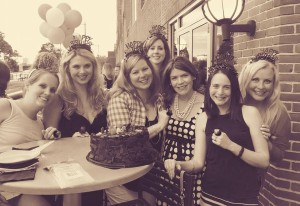 As anyone who has moved can attest to, creating a life in a new city is more than just finding a new hair stylist, although that is an extremely important task!  I once calculated that I have lived in eight cities and three countries since I graduated from University.  This may sound like a lot or a little to you depending on your own family culture.  What I can say is that my move to Boston was by far the smoothest and most welcoming I have had.  This is due, in part, to how fantastic the people of Boston are, but for me the biggest difference is that this was the first move I made as a member of the Junior League.  What a difference this made!
Upon arriving in Boston I was greeted by a welcome email, follow up phone call, and invitation to be part of the Transfer Committee.  How wonderful to have an instant connection to a group of like-minded women from such diverse backgrounds.  If I had this experience in my previous moves to other cities, I would not have had to skulk about yoga classes and Kate Spade boutiques seeking my new BFF!
The Junior League was a saving grace for me in a city I had never even visited before moving to, where my husband was working and immediately traveling and where I initially did not have work or friends of my own.  Through the League, I discovered a group of women from many different cities, with diverse careers, and at various stages in life.  The constant for this group was the sense of purpose and community.  We were brought together because we believe in and support the mission of the Junior League, and had all found our way to Boston.
At one of our first League events in Boston, my husband leaned over to me and said, "Wow, these really are your people."  What he meant was we are a group of outgoing, high achieving, theme-party-planning women who could quickly engage with a complete stranger.  Because we were the strangers, it was the most welcoming environment we could have asked for.  As I begin my third year as a JL Boston member I have suddenly found myself with a packed schedule, phone calls from friends just to say "hi," invitations to weddings and baby showers, and a group of friends that I couldn't have dreamed of bringing together in one place.
Thank you, Junior League of Boston, for enriching my life and helping me to connect with my community.
Shannon Patterson
Director-Elect of Communications