Celebrating Voluntarism at AJLI's Organizational Development Institute Conference in Houston, TX
By: Stephanie Lincoln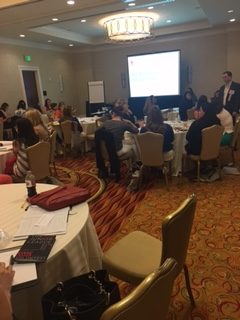 Every year, the Nominating Council sends four future Junior League of Boston Board Members to AJLI's Organizational Development Institute (ODI) conference for a weekend of educational training meetings meant to inform and inspire future JL leaders. I was lucky enough to attend ODI earlier this month in hot and sunny Houston, TX with three of my fellow future Board Members, including Secretary-Elect Grace Austin, Secretary Elect-Elect Anamarie Farr and Treasurer-Elect Angela Williams.
ODI is non-stop fun, learning and networking. Participants include members from Junior Leagues all over the country, from Leagues with 80 total members, to Leagues with over 1000 actives. For me, ODI was an amazing way to rediscover what the Junior League is all about: voluntarism. It was truly an awe-inspiring experience to meet and connect with so many incredible women, each one offering a refreshing new perspective on why we do what we do in our beloved organization.
In addition to three plenaries where Leagues of all sizes gathered together to discuss important topics such as Inclusion and Diversity, Cultural Competence and Celebrating Voluntarism, participants then split up into breakout sessions for trainings specifically geared towards their roles in the coming year. I was particularly excited, as Director-Elect of Communications, to see that for the first time ODI was going to offer a course on Marketing and Communications. For me, the best part of the breakout marketing communication sessions was being able to brainstorm with women from other League's, and then think of ways I could apply their best practices and learnings to our own League. I walked away from ODI with so many unique and exciting ideas for how the JL Boston Marketing and Communications Council could make an even bigger impact.
Best of all, ODI allowed me to get to know the three others from my own League, and form three lifelong friendships in the process! I cannot wait to serve on the Board of Directors with them and all the other Board Members next year. It was an honor to attend ODI and spend the weekend with so many brilliant and inspiring women who all share a passion for voluntarism and improving our communities!
To learn more about AJLI and ODI, visit AJLI.org!