Dancing and Donating at the Gilded Gala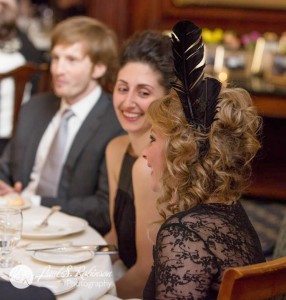 by Abigail Lafond
On February 27th, 2016 the Junior League of Boston hosted its Annual Charity Gala at the historic Algonquin Club on Commonwealth Avenue. Decked out in lace and ruffles, over 400 guests mixed, mingled and danced the night away in the Club's opulent spaces – a perfect venue for this year's Gilded Gala.
Over 100 League members and their guests kicked off the evening with a three-course dinner where 2015-2016 JL Boston League President Valerie Pontiff joined Pamela Gaisson Lynch, Molly Fazio, Chevon Johnson and Vanessa Driscoll to share their own League journeys and honor two outstanding members, Elizabeth Tyminiski and Isabelle Plante.
After dinner guests continued the evening with dancing to the sounds of the Hot Mess, sipped scotch at the Balvenie VIP Premium Tasting, and generously bid on a wonderful mix of silent auction items. This year's Gala raised over $85,000; the proceeds of which directly impact the many communities of Boston. We are deeply committed to the empowerment of girls from underserved communities through direct mentorship and sustained community partnerships. The young women we serve are tomorrow's leaders and promoting their emotional and physical wellness speaks to the very heart of our own responsibility and commitment as women. Reaching these girls at critically important stages in both their cognitive and physical development is central to our mission. That devotion has been our driving force for over 100 years and actively continues today. Thank you to all who support our mission and organization.
The Junior League of Boston thanks all of the 2016 Gilded Gala Sponsors. We sincerely appreciate your generosity and support!
Check out more photos from the event.

Elizabeth Tyminski
We congratulated Elizabeth Tyminski, Slated Secretary of the Association of Junior Leagues International. As one of our most inspiring members, Elizabeth served as President of the Junior League of Boston in 2005-2006. Other vital roles include Provisional Advisor, Treasurer and Show House Chair. She is a top level professional and leads two other Boston-area non-profits. Elizabeth embodies our mission of excellence in non-profit leadership training and exceptional community service.

Isabelle Plante
We also congratulated Isabelle Plante for stewarding a grant from the Trip Advisor Charitable Foundation. Isabelle saw that our Community Service programming could grow and turned that vision into a powerful grant application to one of the country's most impactful foundations.  With the help of President-Elect Pamela Lynch and others, Isabelle successfully achieved a $24,700 grant for the Junior League of Boston.