Getting Fit & Fab with JL Boston
by Abigail Lafond
On March 19 the Junior League of Boston kicked off spring with an amazing health and wellness event that featured fitness classes, massages, a wellness seminar and more.
Attendees who made JL Boston headquarters a stop on their Saturday morning had the opportunity to choose from 5 booty blasting, heart pumping classes including:
Barre with Endurance Pilates & Yoga
HIIT with Cassie B. from BFX Studios
Yoga with Core Power Yoga
Yoga with Erin Madore Wilcox
Pilates by JLB's own Kathleen Riley, an instructor at The Studios @ Benefitn
Fit & Fab Lab guests also benefited from massages and injury screenings by Joint Ventures Physical Therapy and a wellness seminar about women's empowerment through physical and emotional help, with Crossroads of Fitness coach Garrett Wood.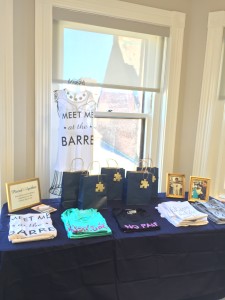 The Junior League of Boston raised about $1,300 during this year's Fit and Fab Lab, and hopes to turn this successful fitness and wellness event into an annual Junior League of Boston signature event! All proceeds from the event go directly back into the community to support the health and wellness of women and girls in the Boston area.
Thank you to Samantha Soukamneuth, Rachel Deering, Hayley Hannan, Marisa Roman and the rest of the Small Events team who spent months planning this special event.
Thank you to all who supported the Fit and Fab Lab:
Tufts Network Health, Cocomana, and First Aid Shot provided goody bags
Class coupons from Endurance Pilates & Yoga and The Studios @ Benefitness
Water bottles donated from Chobani
Raffle prizes provided by:

MyStryde
Sweetgreen
New Balance
Joint Ventures
Hint Water
Endurance Pilates & Yoga
Rockin' Yoga
Peach

Product samples showcased by:

Maple Water
PMS Bites
Peach Bras
JLB member Jess Pickney also brought clothing from her start up company, Pieced 2Gether, a clothing company where all clothing is made by men and women with autism.