CPR Training with Boston EMS
By Brittany Trimble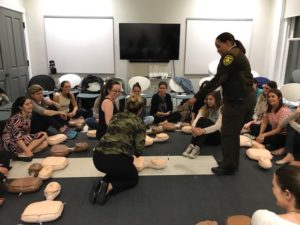 Did you know that if someone in cardiac arrest receives cardiopulmonary resuscitation (CPR) immediately, it more than doubles the person's chances of survival (1)? Time is of the essence in improving outcomes, so having people knowledgeable in CPR can make a huge difference if someone is in need. As trained volunteers serving the greater Boston community, the members of the Junior League of Boston see the importance of being able to respond appropriately in a medical emergency.
That why the Junior League of Boston teamed up with Boston EMS on September 19th to provide an exclusive CPR training for members. This course prepared members to provide care for choking emergencies, perform CPR and use an AED device for victims of sudden cardiac arrest of all ages.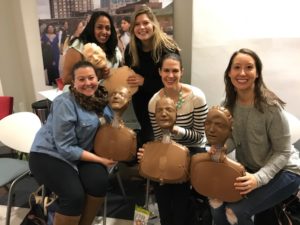 Connie Henderson, a Junior League of Boston member, said "I am CPR certified and wanted a refresher course. The trainers were extremely knowledgeable and made sure to answer all of our questions. I feel as though I would definitely be able to help someone should the need ever arise."
More incredible trainings like this are available to Junior League members throughout the year! If you are a member, check out the calendar here.
Hasselqvist-Ax, I., et al. (2015). Early cardiopulmonary resuscitation in out-of-hospital cardiac arrest.

The New England Journal of Medicine, 372,

2307-2315.

http://www.nejm.org/doi/full/10.1056/NEJMoa1405796